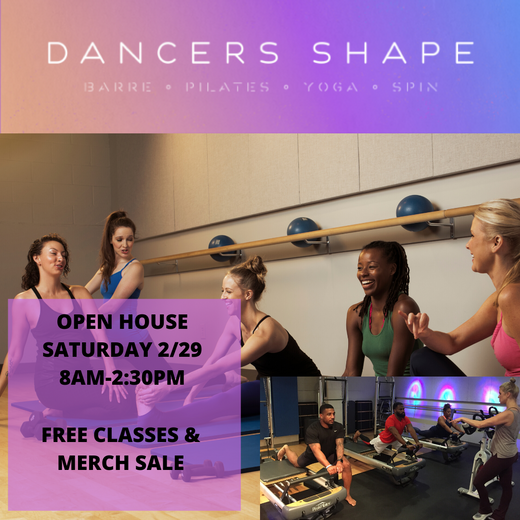 DANCERS SHAPE'S ANNUAL OPEN HOUSE - 2/29/20
Join Dancers Shape for our annual Open House, Saturday 2/29 from 8 am - 2:30 pm!
What's happening that day?
Take a class and mingle with other local neighborhood businesses offering services, specials, & door prizes - Halina Day Spa, Restoring Harmony Massage, Juiceland, & LettyWoman Medical Aesthetics.

New clients can try any of our regular scheduled classes for free. Email us to reserve your spot in class.

Sign up for a 45 minute Pilates equipment group class to be assessed to join a future small group. Spots are limited so email us to reserve your spot: 11:45 am, 12:45 pm, 1:45 pm

25% off DS apparel and merchandise.
As a small local business we pride ourselves on the quality of our services and customer service. Please join us on 2/29 to experience what Dancers Shape is all about. We hope to become your favorite local fitness studio, and introduce you to some other local favorites! If you are already a DS fan, a referral or a review is the best gift you can offer.