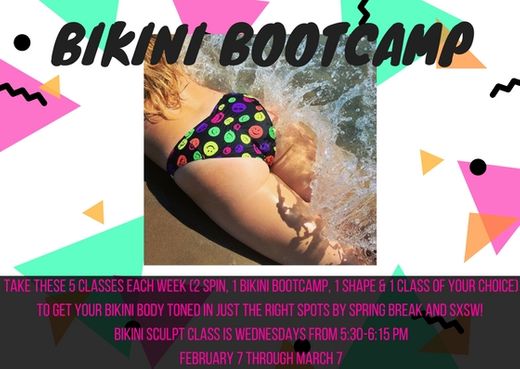 Bikini Bootcamp 2018
Who is ready to get bikini ready? We have a plan for you! Take these 5 classes per week (2 Spin, 1 Bikini Bootcamp, 1 Shape and 1 DS class of your choice) to get your bikini body toned in just the right spots by spring break and SXSW. Follow these class suggestions using our punch card and let us know how you feel at the end! #strongleanandmean.
Bikini Sculpt class is on Wednesday nights at 5:30 pm from now until 3/10! This class is an amped up 45 minute version of the studio's signature barre class. Expect the same burn and toning effects you feel in Shape while adding light impact cardio moves and props (gliding disks & thera-bands). Target all the bikini areas just in time for summer!
Email us or sign up at the front desk to get your punch card started! We think you will love your results.