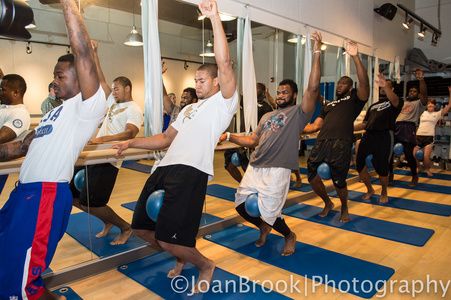 Athletic Conditioning Workshop
Inspired by our work with NFL players, we're hosting an Athletic Conditioning With Props Workshop on 2/27.
This is a great opportunity to introduce the excellent benefits of Dancers Shape to the guys in your life plus learn a new tip for yourself!
This workshop will focus on proper form with the props used in our Core & Athletic Conditioning classes (stability balls, wedges, & therabands). This workshop will address how to engage the deep stabilizer muscles to work in conjunction with the large muscle groups, which improves core strength, balance, control and coordination.
From the professional athletes to the sports novice - this workshop will offer insight at any level of your game.
There are only 16 spots available in this workshop so sign up now.
Date: Saturday 2/27/16
Time: 1:15 pm - 3:15 pm
Price: $35
Autodebit Price: $31.50 ( email us to reserve your spot)
All Levels Welcome