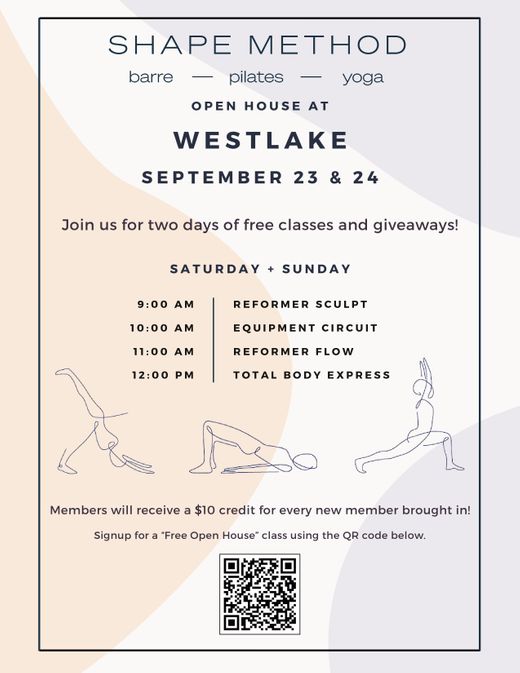 Westlake Open House - Free Classes Plus $10 Credit Referral
Calling at Westlakers!
You and your friends are invited to our Westlake Open House taking place next weekend (9/23 and 9/24). We will be offering free group equipment classes from 9 am - 1 pm, along with discounted packages and membership specials. Plus there will be chances to win giveaways!
All current clients who refer friends to this event will receive a $10 credit (per referral) on their Shape Method account which may be applied to any service or merchandise. Just have your referral tell us your name upon showing up.
Class Schedule 9/23 & 9/24
9:00 am Reformer Sculpt
10:00 am Equipment Circuit
11:00 am Reformer Flow
12 noon Total Body Express (our newest class rollout you will find on our schedule at 12 noon starting 9/25)
**Late afternoon and early evening classes, plus additional weekend times will be added soon. Stay tuned!
Space is limited so please reserve your free spot HERE and share with friends!
As always, thank you for supporting our small local business and helping our community grow.
Jennifer McCamish - Studio Owner