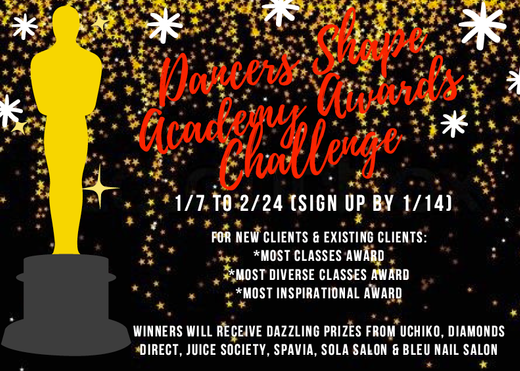 DS Academy Awards Challenge
And the winner is! Between 1/7 and 2/24 we challenge you to wow us in the following categories:
Most Classes Attended- Who can take the most classes? Talk about a dedication award!
Most Diverse Classes- Who can take the most of each of our class offerings? Variety is key!
Most Inspirational Story - We are always deeply touched by our clients stories they share with us so we wanted to reward one moving story from a new and existing client. Please submit your journey to us by Friday 2/24/17.
We will award prizes to the above categories for existing and new clients (you are considered a new client if you began attending Dancers Shape in November '16, December '16, or January '17) for a total of 6 winners!
Check out these incredible prizes!
Email us to sign up by 1/14. Remember all autodebit clients receive autodebit perks! Sign up for autodebit today to get all of your classes in!