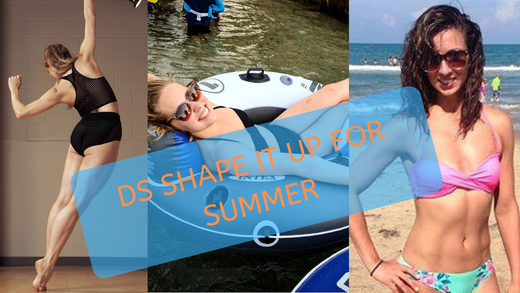 Dancers Shape's Shape It Up for Summer - 30 Day Fitness & Nutrition Program
It's that time of year - shorts, sundresses, & swim suits! Are you "summer ready?" Dancers Shape has you covered. Introducing our fitness and nutrition 4 week program called "Shape It Up For Summer!"
How does it work?
Sign up by Saturday May 4th and join us for our kickoff Nutrition Workshop with Dancers Shapes's nutrition health coach Megan Adams Brown. Enjoy samples from Juiceland during the workshop which will be held from 1:15 - 2:15 pm followed by a 30 minute Q&A. Get the support and accountability so you can stay committed for the next 4 weeks in May and hit your goals just in time for summer!
In the program and workshop you will:
Set a REAL goal and set the conditions for inevitable success
Learn key strategies and tips to help with mindset, meal planning and creating a healthy routine you can stick to
Get a 7 day done-for-you guided meal plan, including shopping list and prep instructions to make meals quick and easy
Plus more easy recipes, ideas and tips to mix up the meal plan and make eating nutritiously every day even easier
Attend unlimited Dancers Shape group classes from May 1st - 31st.
Get a 7 day guided exercise plan
Connect with your coach and members of the group to share, ask questions, and get advice in our closed "Dancers Shape's Shape it up for Summer" Facebook page
Feel supported with a group and coach that's doing it all right alongside you
Be held accountable to your goals so you know you'll stick to them
Snag a DS swag bag
Pause any current class package you have and join the May Shape It Up for just $225 OR stay on your current class package and add the nutrition piece (workshop, meal plan, support group + more recipes and resources) for only $99.