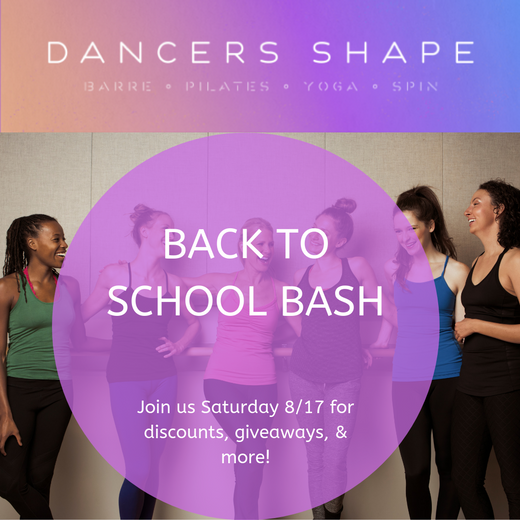 Dancers Shape Back to School Bash!
Now that the kids are going back to school, let Dancers Shape help jump start your personal wellness routine! What's happening at our Back to School Bash on Saturday August 17th from 8 am - 1 pm:
Take a class and bring a friend, colleague, or family member to try our $20 unlimited week of classes and receive a $10 credit on your DS account. Credit may be applied to any future purchase at DS by the end of 2019.
Book a complimentary nutrition strategy session with Megan, our on staff Certified Nutrition Health Coach. Email, call (512) 382-9150 or drop by the front desk to book your complimentary mini session.
Sample Central Market's latest healthy treats and enter to win their Back to School Gift Basket!
Enjoy complimentary mini massages from our friends at Rising Spiral.
Door prizes from Athleta - $25 shop cards.
Shop local artist and candle maker Kandle Karma with 20% off and be entered to win a complimentary candle set!