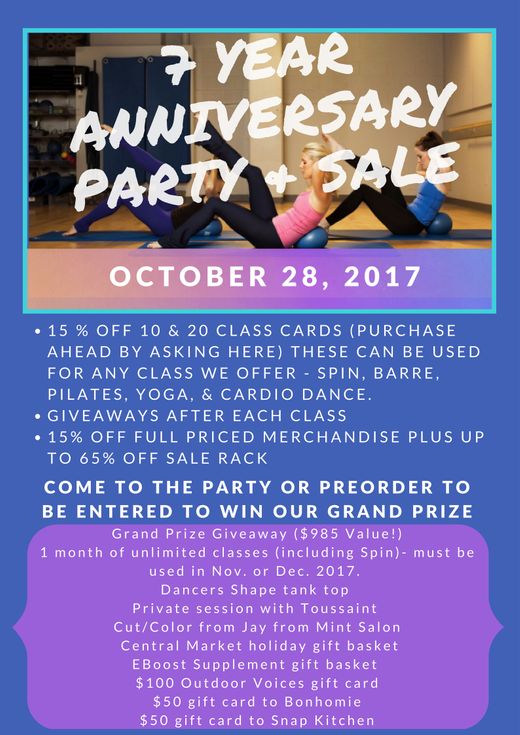 7 Year Anniversary Party & Sale
Save the Date for Our 7 Year Anniversary Party on October 28th!
Buy 10 & 20 class cards for 15% off - our biggest discount all year! Don't forget that our class cards can be used for any class we offer - spin, barre, pilates, yoga, & cardio dance. Preorders are available if you can't make the party (just give us a ring at 512-382-9150 or send us an email with your order request). Clients may purchase multiple cards. All cards will have a 6 month expiration date from date of purchase. Rollover policy available for all sale cards.
Here's what you can do at our party on Saturday 10/28:
Take a class. One lucky person from each class will win a door prize (a free DS spin class & a $10 gift card to Hat Creek!) We're also doing Halloween-themed Groove & Glutes. Best costume gets $25 to Noble Sandwich Company!
Shop! We will be offering 15% off all full priced merchandise plus up to 65% off sale rack.
Snacks & sips while you shop & enjoy the party
Enter to win our Grand Prize giveaway ($985 Value!)- everyone who comes to the studio for our party and/or who pre-orders a class card will be entered to win:
We are thrilled to be celebrating 7 years in business and we hope you can join us! We're also doing weekly Facebook giveaways in celebration. One lucky winner each week will get a $25 gift card to Uchi!
Not able to come to the party?
You may still take advantage of the savings with our pre-sale and be entered to win the grand prize. You must have a current account and credit card on file, or you may set an account up through our online scheduler. Just give us a ring at 512-382-9150 or send us an email with your order request (to be processed day of sale) or if you need help setting up an account. No need to miss these great deals with so many options!