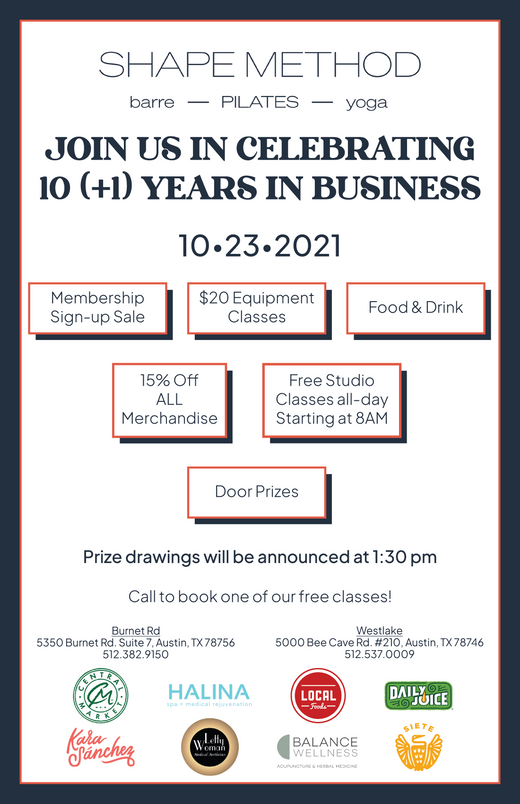 10(+1) Anniversary Party!
Join us Saturday, October 23rd to celebrate 11 years of business at Shape Method! Both of our locations will have parties from 8am-1pm featuring free classes, sales, and more:
Free Group Studio classes all day
$20 Reformer Classes
Sign up for a membership on this day, get one month free
15% off ALL class cards (group & equipment) and all merchandise.
Enjoy snacks from Local Foods & Daily Juice, plus mimosas on the house.
Giveaways from Siete, LettyWoman, Halina Day Spa, Balance Atx, and Kara Sanchez Beauty! Enter to win by doing one or all of the following:
Taking a class on the day of the party
Bringing a friend to class with you
Purchasing a class card or membership
Prizes announced at 1:30pm!
Burnet Road Class Schedule:

Free Group Studio Classes All Day
8:15am Graceful
9:30 Shape
10:45 HIIT Pilates
12 Noon Shape
$20 Reformer Classes- email or call to reserve a spot!
8:15 am Reformer Flow
9:30 Reformer Sculpt
10:45 Reformer Flow
12 Reformer Sculpt - Sarah
Westlake Class Schedule

$20 Reformer Classes- call or email to reserve your spot!
8am Reformer Flow
9:3 Reformer Sculpt
11am Reformer Flow
12:30 Reformer Sculpt
Can't make it to the party? Call or email to pre-order your discounted class cards or membership! Clients may purchase multiple class cards, expiration dates apply.
Come take a class, hang out, and see our new interior studio updates!